JAPAN to WORLDWIDE
INFORMATION
DESIGNER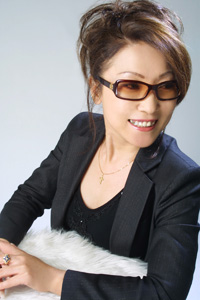 Hi, I'm Macolina Kawasaki and the fashion designer of CHARALIST.
My design concept is about how I desire to be look like.
I always desire to be look slim, feminin and confident.

I've started enjoy myself making dresses for my family and friends, when I was in grade school, and I'm happy enough to keep creating wardrobes for professional women in Japan.

Now I'm hoping to see more experts dressing in CHARALIST, worldwide.
Sincerely,
Macolina Kawasaki
ABOUT US
CHARALIST women's suits was launched in 2004 with our dedication to professional women, and to their desire to dress appropriately.
Our brand name is a blend word of Character and Stylist. Stylist is the personal nature of our service, as every garment is thoughtfully created for an individual Character of our customer.

We are answerable for Custom Made and Made to Measure suits and clothing specially for women.
Responding to customer's requests, we also offer an exclusive, personal styling service, available in our Osaka & Tokyo showrooms.
Our company, including a development team and a sales team is driven by women and so that we can deliver a unique female perspective to the traditional male‐dominated industry.

Master patterns with our devotion are drafted by professional patternmakers, under the direction of Macolina Kawasaki, the designer.
We have been refined our pattern library based on customer's inquiry. After 10 years in business, we are appreciated as a custom-tailored service in Japan.

We aim globally to support women feeling strong in the workplace by delivering CHARALIST's well-fitted stylish clothing.
As professional women escalate in their society, we will pursue to move up with them, hoping to play a stylist role in their success.

We make our best endeavor to meet customer's expectation, and we will intend to exceed yours.
To get started with your Custom Made or Made to Measure Clothing, Just email to us for a free consulation, today.
We will contact you to discuss your specific demand, and we will provide all the information you need during the free consulation period.
COMPANY
NAME

ANYS Co., Ltd.

HEAD OFFICE

1-6-13-2nd Floor Awaza, Nishi-ku, Osaka JAPAN 550-0011 Phone.+81-6-6537-0400 Fax.+81-6-6537-0401

ATELIER & LOUNGE IN OSAKA

1-6-13-2nd Floor Awaza, Nishi-ku, Osaka JAPAN 550-0011 Phone.+81-6-6534-0064 Fax.+81-6-6537-0401

TOKYO OFFICES

7-5-4-5th Floor Ginza, Chuou-ku, Tokyo JAPAN 104-0061
Phone.+81-3-6274-6274

FOUNDED

February 16, 2000

DIRECTORS

Chairman Masako Kawasaki
Director Hironori Yamagami
Director Nami Ito
Corporate Auditor Remi Higashi

CAPITALIZATION

JPY137,000,000 (About USD1,150,000)

ENTERPRISE

Planning tailor-made fashion brand
Retail tailor-made fashion
Incubation Charalist
Cosmetics

MANAGEMENT SITE

[CHARALIST] Japan http://www.charalist.jp/
[FairyRose] Japan http://www.fr-suit.com/
[FairyRose] Korea http://kr.fr-suit.com/
[LUNAMARY] No.3~19 Japan http://www.lm-suit.com/
[LUNAMARY] No.21~27 Japan http://www.lunamary.jp/
[DOLCELABY] Japan http://www.dolcelaby.com/
[DOLCELABY] Rakuten Japan http://www.rakuten.ne.jp/gold/dolcelaby/
[DOLCELABY] Rakuten Taiwan http://r-select.shop.rakuten.tw/c/0000015273/
[DOLCELABY] Japan shirt blouse http://www.shirt-blouse.com/
[men's suit d.] Japan http://www.d-suit.com/
[Formal Suit Rental for mens] Japan http://www.rental-suit.com/
[Formal Suit Rental for ladies] Japan http://item.rakuten.co.jp/dolcelaby/c/0000000309/
[MMM Cosmetics] Japan http://www.mmmcosme.com/
[MMM Cosmetics] Rakuten Japan http://item.rakuten.co.jp/dolcelaby/mmm_moisture_serum_sp/